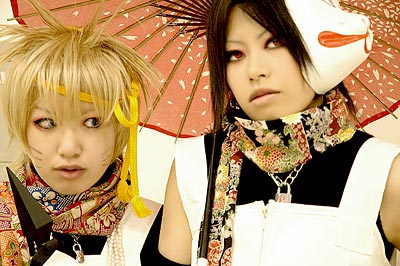 Penname:
Rah Poppin [
Contact
]
Real name:
Kirstin
Membership status:
Member
Member since:
04/12/06
Website:
http://kayorine.livejournal.com
Beta-reader:
Real Name: Kirstin (oh duh)

Preferred Name: Kayorine
*It's been a penname since the sixth grade*

Age: WOOT! Hey, I'm 20!

Sex: Female

Gender: Bad-ass (running joke with the bf)

Sexuality: confidently straight
*I'm pretty sure I'm not into girls--I don't like boobs, I hate the period and I love the penis--but I have to admit my boyfriend is kinda on the girly side so maybe if I find a girl who isn't all shopping and boys, I'd see*

Talents: PSYCHOLOGY
*You know how goths and emos try to act like their world is horrible because of a bad break up and their parents fight? Yeah, my life- totally blows them all out of the water. I had to go through therapy and suddenly, the way the mind worked was fascinating to me so it's often incorporated into stories*
hmmm....another talent would be cooking but not baking. I'll melt an oven...or shatter the glass of the oven door (done that...3 times now).

Hobbies: Writing of course but I love music (any kind of rock or something you can dance to--real dancing too hell yeah I can bumb and grind but on some days I just don't want to) and I love anime.

Obsessions: Sasuke apparently, I write way to many stories about him. But I'm also obsessed with Samurai, I have my own set of real swords and I'm learning how to use them as well.


Currently, I'm into reading yaoi fics of the Naruto characters but I enjoy a good KibaxHinata or a ShikamaruxTemari story, though they are few and far between.


I'm oddly sarcastic, I don't know if you've picked up on it though, and it's what has gotten me through life. If I ever get my act together and write a certain story I've been planing, you sense a lot of that (plus quotes from comedians- love stand-up) but I don't believe I can write a true romance, without it sounding sappy (which is not my style) so a few of my ideas will be a huge test.

Anything else? Naw, probably not. I can always update...*looks up to webmasters* right? right.

well then, until the next time.

Zai Jian.

Contact Author:
Indicates required fields. Please be respectful and polite when contacting an author.