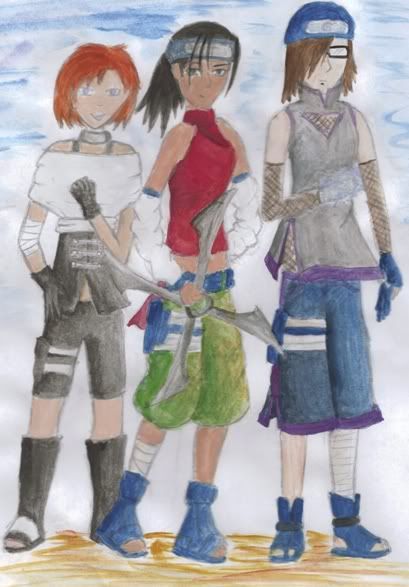 Team 13 by suzieuchiha


"I'm telling you Neji, you're really going to like these girls," Naruto needed someone good to get these girls working as a team, god knows they needed it. "They are showing real promise, really!"

Neji sighed, there wasn't much he could really do, after all Naruto was Hokage. "Fine! Tell me about them."

Naruto grinned, they were Neji's problem now. Naruto shuffled the files he'd got out. "Right, firstly Rosa, you'll need to be careful there, she has a bit of a temper. *cough* She was one of Orochimaru's failed experiments…"

Neji raised an eyebrow. "You're giving me Orochimaru's leftovers?"

"Hey! She's quite strong actually…" Neji felt the subject had been left unfinished but studied the photo Naruto handed him in silence, it showed a dark haired tanned skinned girl scowling at the camera. The next photo handed to him was of a grinning red-headed girl holding her fingers up in a 'v' shape. "This is Abi Yamanaka she's… a little hyperactive but a lovely girl! You'll know her older cousin, Ino." Neji remembered the loud girl who always pushed Shikamaru around, he wasn't liking the sound of his new team so far.

"And the third? Dare I ask."

"Okay you should like this one, a medical ninja from the Inka clan! Tsuzi Inka." Neji took the photo offered and frowned at the ferret wrapped around the brown haired girls neck. She had thick black rimmed glasses and a lip piercing. 'She seems familiar.'

*

Tsuzi sat with her ferret, Fuyu, on her head. She didn't need to look up to guess who it was that approached, the raised voices were enough of an indicator. She rolled her eyes at what her team mate, Abi, was saying.

"You killed my first love!"

"Stop being so melodramatic!" Rosa replied heatedly.

"Melodramatic?! I'm not being melodramatic."

Tsuzi frowned, she was pretty sure Abi didn't know what melodramatic meant. It wasn't the first time Tsuzi had heard this argument. She sighed and wrapped Fuyu around her neck before climbing to her feet. Rosa and Abi didn't spare her a glance as they continued in the direction of the Hokage's office, now followed by Tsuzi.

"You killed him and now you are acting as selfish as you were before… like nothing happened."

"Lay off me, you know how I get when I'm wound up…you don't want to be in that position, do you? Anyway lets focus on today, new Sensei new start!"

"Ha! I'll shut up for now but don't think I've forgotten!"

"Like you'll let me!" Muttered Rosa before turning to Tsuzi. "Morning Tsuzi!"

Abi folded her arms tightly and sighed deeply, she turned to Tsuzi and grinned, "Hello!"

*

Neji turned as he heard at knock at the door, "Come in!" Called Naruto.

Neji watched as his new team walked into the Hokage's office. The one named Rosa was leading as Naruto said she would. Abi followed avoiding looking at Neji flashing Naruto a quick grin. The medic ninja Tsuzi also avoided Neji's gaze instead she stared at the floor with a faint blush creeping across her cheeks.

Naruto considered the three and smiled to himself, if anyone could deal with these girls it was Neji!

Naruto gave a warm smile and greeted the kunoichi, his gaze locked onto Rosa's as he spoke.

"Well Neji, this is Team 13, girls this is your new sensei Neji Hyuuga."

"So this is the guy with the fancy eyes?!" Rosa commented rudely. Neji considered her and then turned his attention back to Naruto.

"I see what you mean about that one." he then faced the silent red-head as she muttered under her breath.

"I loved him." She seemed to realise a second too late that she spoke out loud.

"Neji…Sensei." she acknowledged him mournfully.

He turned to face the final of the three and raised an eyebrow, she was staring at the floor trying to hide behind her albino ferret.

Neji smiled to himself remembering where he had seen her before, he straightened and smirked at her before turning back to Naruto.

Rosa turned to Abi and both glanced at Tsuzi trying to conceal their sniggers.

Naruto regarded the four of them with a slight nod of his head, he had made the right decision; he was the greatest Hokage yet!

"Okay you guys I'm sorry I can only give you a week to get to know each other, but there's a mission coming up that I need you to take care of. But with Neji as your sensei I'm sure that will be enough!"

"Hmm." Neji didn't seemed very pleased but again Naruto was the Hokage and he wasn't one to disrespect his, *sigh*, superiors.